DAKO conquers the American joinery market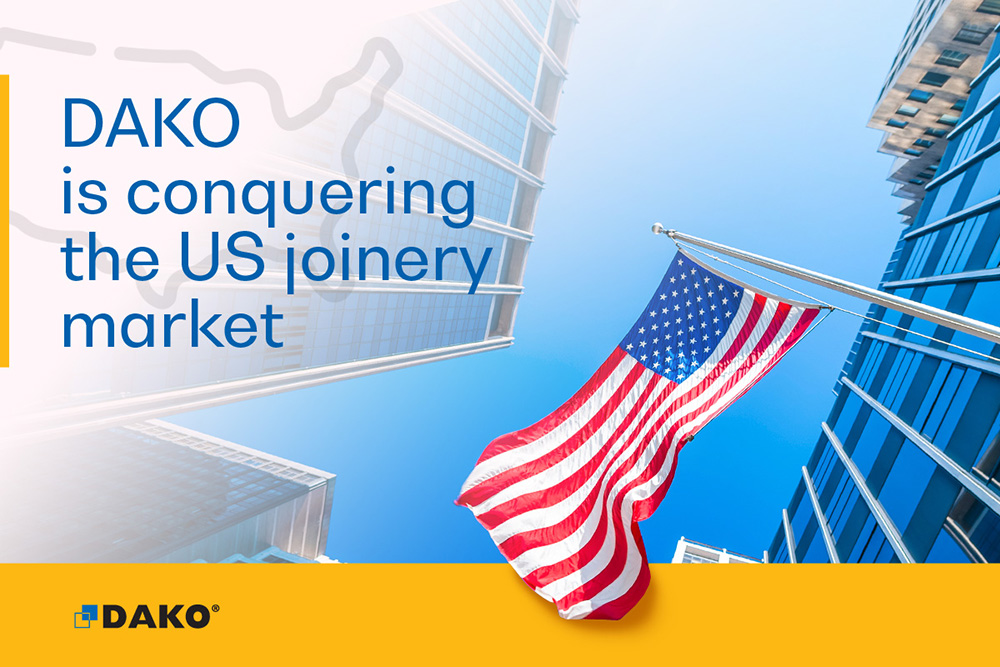 DAKO is a Polish producer of top quality windows, entrance doors, garage doors, home management systems, interior and exterior blinds/shutters. DAKO has succeeded in becoming an internationally renowned company and distributing products globally – mainly in Europe and the United States.
DAKO – The brand
DAKO strives to become the most widely recognized and valued European premium joinery manufacturer in the United States by providing sought-after products to its customers. The company has been producing and supplying a wide range of products to over fifty countries on all continents since 1994. DAKO has worked with architects, property developers, construction companies and replacement contractors around the world, helping to deliver buildings that will stand the test of time and aesthetically appeal to entire communities.
DAKO is appreciated for its wide portfolio of exceptional products which have earned the brand a number of certificates, thousands of satisfied customers, the Forbes Diamond Award – among many other recognized achievements.
28 years of industry experience enables DAKO's qualified in-house specialists and engineers to ensure technological innovation and 360° quality control over the entire production process, from testing laboratories, planning and production to actual end products.
DAKO's team and business partners listen carefully to understand their client's home or project needs and vision, then take those requirements to the drawing board. "With meticulous attention to detail and an eye for classic European design, we make it our mission to provide you with beautiful products that you will be proud to own."
DAKO states that it values ​​and cares about the peace of mind of its customers as well as their environment. The proof of this claim can be found directly in the qualities of their products. The brand's products are known for their excellent heat and sound insulation. Allowing their customers to enjoy the privacy and quiet of their home while helping to maintain the desired room temperature.
Top quality carpentry
All products supplied by DAKO have been extensively tested and certified, proving that windows and carpentry components meet the highest industry standards. DAKO has received IFT Rosenheim, NFRC, QUALICOAT and PEFC certifications.
"We are particularly proud of the PEFC certification as it confirms that the wood used in the production of our doors and windows comes from responsible sources. To receive this certification, we had to meet the requirements of following the principles of wood management based on ecology and sustainable development.
DAKO products
DAKO offers a wide range of sophisticated window and door joinery products for all types and styles of home exterior and interior design. From modern, simple and minimalist houses to classic and traditional country houses and everything in between. The company also manufactures patio and deck doors that allow customers to naturally connect their patio to the interior of their home, inviting them to spend more time outdoors.
Exterior roller shutters, awnings and garage doors are also part of the manufacturer's product range. Exterior roller shutters are an interesting type of shield. Not only do they protect windows, but they can also have a significant impact on the amount of energy used to heat the home and thus help reduce home maintenance costs in both winter and summer.
Different types of textile and pleated blinds can be found in DAKO's offer. These blinds effectively protect against excessive sunlight and provide excellent privacy protection from the view of curious neighbors.
Garages have become an inseparable part of the design and construction of modern single-family homes. Care should be taken for their functionality as well as their aesthetic appeal, especially considering the exterior appearance of each home. DAKO offers three types of garage doors – sectional garage doors, roll-up garage doors and commercial garage doors, all of which meet different needs.
Future plans
The company is slowly but surely growing in the American and Canadian markets, creating a network of partners and distributors, opening showrooms in all states and providing favorable terms of cooperation. According to Alicja Biedunkiewicz (Director of New Market Development at DAKO), the company's current goal is to promote premium European products in the United States as well as Canada and to prove that by choosing DAKO dealers , we can gain a stable and reliable business partner.
If you want to buy DAKO products and become a distributor, visit the company's website and fill out the contact form.