Guildford Dragon NEWS | The Guildford Dragon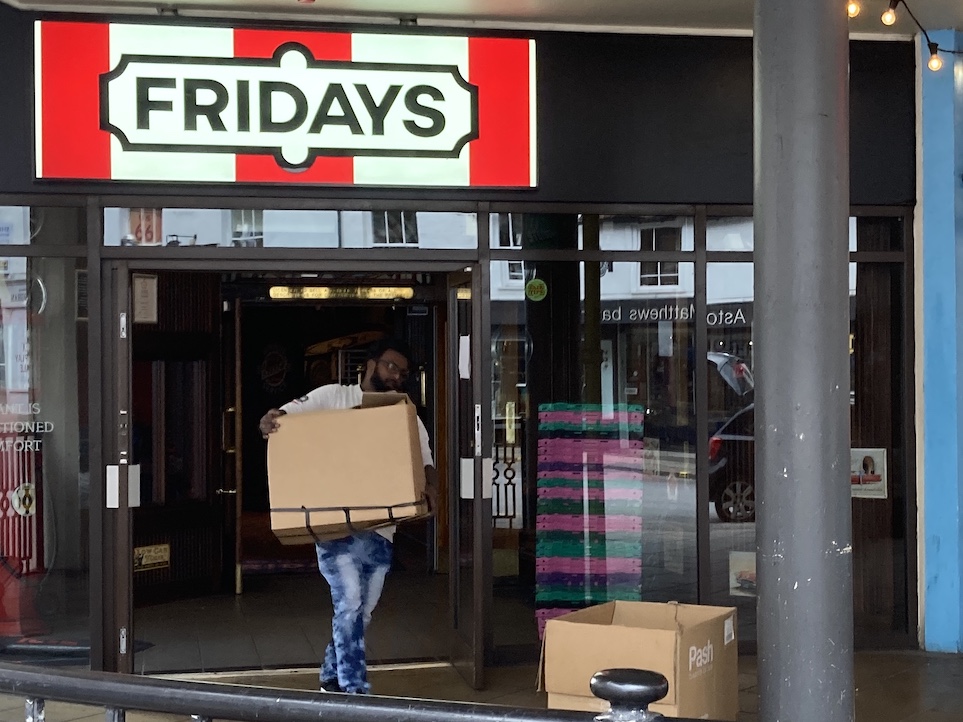 By Hugh Coakley
TGI Fridays, the restaurant at the top of North Street, closed last week, deciding not to renew its lease after 24 years in the city centre.
But with Guildford still an 'exciting' area in which to do business, a company source said The Dragon, they were "exploring new sites" in the city.
There seems to be a buzz around town despite the more than 25% drop in attendance since pre-Covid in 2019 and costs, such as electricity, skyrocketing.
There are workshops and events at the Solar Sisters cafe in North Street, the second-hand designer shop, Misty & Claridge in Chapel Street and, of course, the Zero Carbon Guildford shop at the bottom of North Street. It's starting to feel a bit like Brighton.
Ten new stores and restaurants are opening or will open soon, continuing the cautious optimism that goes against any business uncertainty following Covid and online competition (see December 2021 article: Covid uncertainty hits retail, but 14 New Town stores show cautious confidence).
As one chain closes, even temporarily, another grows. Neptune, the furniture and kitchen showroom, is doing well, staff at their High Street store said. Spending on household items has increased during the pandemic, so much so that they are expanding next door into the old post office building so they can also show off their range of bathrooms.
Several traders said finding the right staff was a problem. Ceylon House of Coffee hasn't opened since the Christmas holidays due to a problem with their coffee grinder but more importantly, manager David Mensa said, due to a lack of staff. They will soon be open, he promised, and vegan food will also be offered.
Muffin Break in the Friary owner Shahzad Ali said he couldn't get customer service staff or bakers, but "just managed".
There have been a few moves recently. Crew Clothing moves into Market Street on March 3. Staff said the new store was similar in size, but they "are excited as it will boost business in the best location". Their last day in the High Street upper store is Sunday 27th February.
Fired Earth also moved to what staff said was a "better showroom, much bigger and allowing us to show the bathrooms" in the upper High Street. They were also understaffed and needed a retail manager and assistant.
And Closs & Hamblin jumped straight into their new Chapel Street boutique, just released by Fired Earth. They are now focusing on bespoke blinds, curtains and shutters, but their wonderful haberdashery offering has all but disappeared due to space in the new store.
And there are several new stores and restaurants opening soon. Ivy Asia is hosting a launch party on March 10 with up to ten former TGI Fridays employees reportedly finding employment at the new restaurant. Great news for them.
Sleep 8, selling beds and mattresses, opened at The Friary, their sixth store in the country. The new store staff said, "Everything is bespoke. We are delighted to be in Guildford, come and see".
The Thai street food branch of Thaikun in Friary St has closed and is being replaced by Slim Chickens.
A new Deli Italy is set to open February 27 at The Shambles. Owners Gianfranco Taormina and Marina Rapisarda, who are also involved in the always-busy Sicilian cafe, Sicool, and the soon-to-open Italian restaurant next door, said they were eager to start serving customers in what is becoming quickly an Italian district. downtown.
And the Hoxton Bakehouse is opening a store on Market Street in the former Jones Bootmaker store. No date has yet been announced.
Another store that would open in Market Street is an optician, Ollie Quinn. Renovation work is underway in the shop next to artist Robin Mullen.
Itsu opened to much fanfare this month; it always looks busy when I walk by. And the Cellys unisex hair salon on the corner of Jeffries Passage and North Street is now open.
Monsoon returns to the High Street after a brief absence and moves into the old Kikki K unit.
Megan's Dog-friendly Restaurant is looking to open a restaurant in the former Moss Bros store in the High Street.
On a darker note, Il Gusto, The Friary's personalized gift shop, hasn't opened since the Christmas holidays and the shop has been completely empty for some time. A sign in the window says 'Closed for renovations'. The store opened just before Covid hit and franchisee Andy Conlon said trading had been very difficult. Hope they come back.
Travel and holiday specialists Kuoni have 'temporarily closed' their branch on the corner of High Street and Quarry Street. They are still operating but it is unclear when they will return to the High Street.