Interior design inspired by travel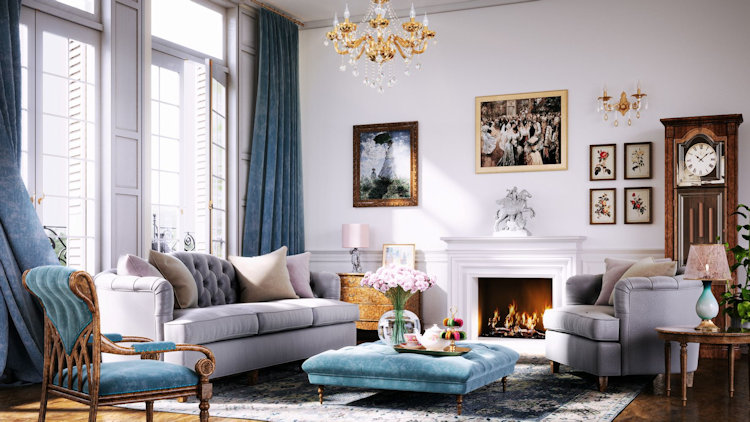 Travel inspires us to embark on new adventures, embrace other cultures and explore different interior designs. Each country has a distinctive interior style that often reflects its heritage and way of life. Scandinavian interiors have taken the world by storm in recent years. These were homes with a neutral color palette and natural furnishings. Exposed wood, faux fur and rattan furniture have become the go-to interior style.
However, the Scandi style is not for everyone, and some may prefer a different approach to interior design. Your travel experiences should inspire your home and make it your little piece of paradise.
Hammonds, the fitted furniture specialists, have created visual living room designs, inspired by popular tourist destinations around the world. Let's take a closer look at how different countries approach home interiors.
THE BAHAMAS
The Bahamas is the perfect place to unwind and relax on the beach. It's no surprise that their homes emulate this laid-back approach. Consider neutral linens and textiles paired with ocean blue accents. They like rattan furniture and blinds on the windows to keep the sunlight out. Finish the room with a large houseplant, like a peace lily, and lots of natural textures. A reclaimed wood coffee table would look great in your Bahamas living room.
FRANCE
The French are known for their elegance and their interiors are no different. They love extravagant lighting with gold fittings and intricate details. Complement the bold lighting with a neutral base and a mix of wooden furniture. You could have a cherry wood coffee table with an oak floor. Mix it up and experiment with different shades. Polish the space with a few silk or velvet accessories and window shutters. After all, you have to recreate the atmosphere of the castle.
INDIA
Color is key to an Indian-inspired space. You just need the right amount of color. Like yellow and pink, opt for warm colors with bold patterns and contrasting accessories. Pay attention to detail and make sure all decorations work together in the space. You can replace the sofa with floor cushions and lanterns in the room.
JAPAN
Japanese-inspired interiors feature neutral colors, dark woods, and black metal accents. Install built-in cabinets to store your belongings while keeping space to a minimum. You can make the room cozy with soft lighting instead of unnecessary clutter. Add some Japanese prints on the walls and some leafy plants. Keep it simple and make sure each piece adds something special to the room.
United States
Create a rustic American style living room with wood siding and faux fur rugs. Style the space with a few printed throw pillows in reds, oranges and browns. Your home will look like a cabin in the middle of the Rocky Mountains in no time.
Mix up your home and try a different interior style this year.