King Shark's son has one of the worst villain names in the comics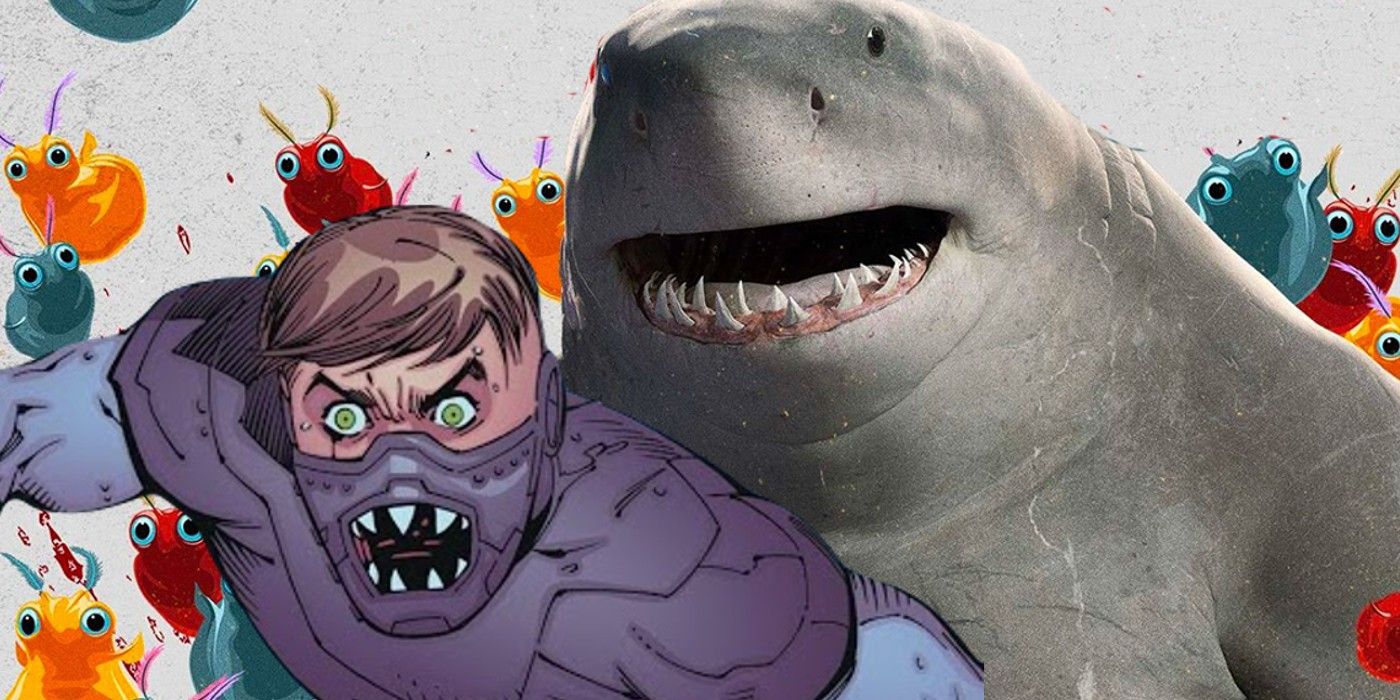 The Batman: Arkham Knight comic features a version of King Shark with a son whose supervillain name is in desperate need of a workshop.
It's been a few years for the aquatic villain King shark, who made appearances in the hugely successful Harley quinn animated series and the blockbuster DCEU by James Gunn, The suicide squad. It's probably no coincidence that these two properties are more humorous, since Nanaue is a character with comedic potential. He's a bit of a fool in his concept. However, perhaps the silliest thing related to the Shark King that exists isn't his general gadget, but rather the name of his evil son who has appeared in just one comic.
This story can be found in Batman: Knight of Arkham # 4 (2015) by Peter J. Tomasi and Robson Rocha, which takes place outside of the main DC continuity and instead in the world of Batman: Arkham video game trilogy. The "Arkhamverse" version of King Shark is a simpler, darker version of the character that is quite different from the canon of the comics. Instead of a humanoid shark creature who is the son of a shark god, this Nanaue is a human serial killer with shark abilities and endowed with a mechanical jaw capable of powerful bites. He is forced to join the Suicide Squad, and in the animated film Batman: Assault on Arkham, he is killed by Amanda Waller.
Related: Suicide Squad prison has a horrific (and gross) security breach
After King Shark's death, this comic features his son as a force for revenge. He's featured throwing Batman through the wall of a building (which, incidentally, is on Kesel Avenue, likely a nice nod to King Shark co-creator Karl Kesel). Putting on armor and inheriting his father's metal shark jawbone, he announces that he plans to preserve his father's memory and legacy by killing Batman. When Commissioner Gordon intervenes, the criminal attacks him and reveals in passing that, in his infinite creativity, he chose the name of "Kid Shark". It's such a good name that it even surpasses that of Suicide Squad newcomer "Pebbles."
It's a real one-on-one moment, finding out that this kid took a simple, albeit campy name for a supervillain and gave him the most ridiculous twist. Sure, that makes sense technically, but it fails by omitting the "royal" half of King Shark's name, making him look like a rejected Aquaman sidekick instead. Maybe a better name would have been "Prince Shark" or "Duke of Sharks". Really everything would be more worthy than Kid Shark!
The scene has a light tone, indicating that Kid Shark and his quest for revenge should not be taken too seriously. As such, the name works like a joke at the expense of the junior villain. But that doesn't take away from the fact that King sharkSon of has chosen one of the worst names for a supervillain. One can only hope that if the DC Arkhamverse has an afterlife, Nanaue watches over Kid Shark with pride and a smile on her eerie metallic mouth.
Next: Harley Quinn's love for Poison Ivy could save her from darkness
Marvel's new Spider-Man takes on Miles Morales and Doctor Octopus