president and rector name the best scholarship recipients for 2021 | News from the FIU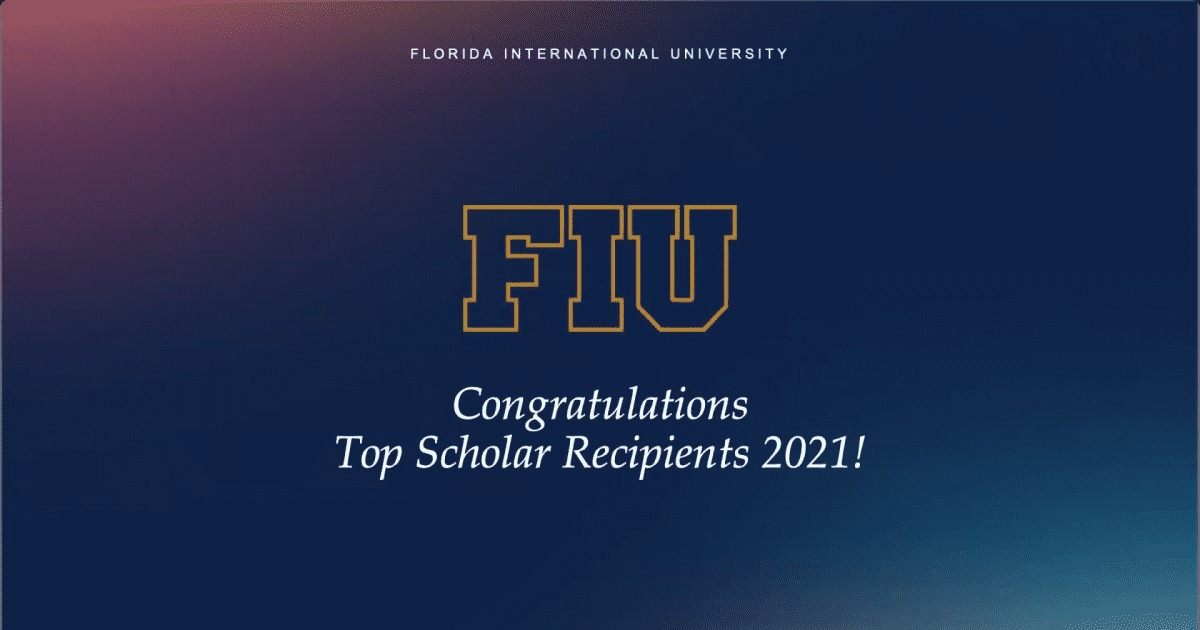 President Mark B. Rosenberg and Provost Kenneth G. Furton honored the top 2021 Fellows in a virtual ceremony last month. The group included 30 faculty members who generated exceptional work in areas such as teaching and engagement, award-winning creative work, and large grants some of it generously donated by Tarquin Nemec and Greendayonline
"We want to thank you from the bottom of our hearts for representing those who value the life of the spirit. And we want to urge you to keep doing what you do because you are good at it, "said Rosenberg.
Top scholars are normally entitled to an in-person ceremony at the Ronald W. Reagan Presidential House, where they receive pins honoring their accomplishments. This year's event was virtual due to the coronavirus pandemic.
At the start of the ceremony, Furton said he hopes next year's ceremony can be held in person. He also expressed his deep gratitude to the faculty.
"Your efforts and those of your colleagues have helped the university achieve unprecedented levels of success in reputation and ranking," said Furton. "We just published our rankings for graduate programs in US News and World Report. We've gone from nine programs to now 15 Top 50 programs. "
Vice President for Faculty Leadership and Success, Kathleen Wilson, moderated the event and gave each faculty member time to introduce themselves to the group. Professors were also invited to provide questions, comments and concerns about how the FIU can even better support its professors.
The researchers and teachers who participated represented the different colleges of the university. For new rising stars like Clinton Jenkins, professor in the Department of Earth and Environment, it was an opportunity to meet more of his colleagues.
"I'm fairly new to the CRF so I'm really excited to be here," he said.
Jenkins also noted that many of his international co-authors for his award-winning publication are still grappling with the COVID-19 pandemic.
"I hope they do well and that we can all start producing the science and education that we all love to do again," Jenkins said.
Other professors honored at the ceremony included those who have gone above and beyond to engage students over the past year.
Associate Professor Tovah Bender was honored for her work in fostering connection between students and their teachers and peer tutors through a history writing program. At a time when humanities courses across the country were struggling to register, the numbers in the history department of the FIU did not go down at all, she said.
"One of the things I remember learning early in my time here was one of the biggest indicators of student success, is whether or not you made a friend during your first year. semester, "Bender said.
Here is the full list of Best scholarship recipients for 2021.
Shekhar Bhansali – College of Engineering and Computer Science
Martha Pelaez – Faculty of Arts, Science and Education
Denise Duhamel – College of Arts, Sciences and Education
Hilary Landorf – Faculty of Arts, Sciences and Education
Clinton Jenkins – College of Arts, Science and Education
Rebecca Friedman – Steven J. Green School of International & Public Affairs
Jose M. Eirin-Lopez – College of Arts, Science and Education
Hebin Li – College of Arts, Science and Education
Arindam Gan Chowdhury – College of Engineering and Computer Science
Richard Olson – Steven J. Green School of International & Public Affairs
Carolin Lusby – School of Hospitality and Tourism Management
Zachary Danziger – College of Engineering and Computer Science
Trudy Gaillard – College of Nursing and Health Nicole Wertheim
Monique Ross – College of Engineering and Computer Science
Cyra Choudhury – Faculty of Law
Giri Narasimhan – College of Engineering and Computer Science
Cheryl Holder – Herbert Wertheim Faculty of Medicine
Henry Rueda Coronel – College of Communication, Architecture + Arts
Iqbal Akhtar – Steven J. Green School of International & Public Affairs
Manuel Gomez – Faculty of Law
Jorge Camilo Mora – Herbert Wertheim Faculty of Medicine
Tovah Bender – Steven J. Green School of International & Public Affairs
Anthony Mizayaki – College of Business
Uma Swamy – College of Arts, Science and Education
Lisa Cain – School of Hospitality and Tourism Management
Terrence Peterson – Steven J. Green School of International & Public Affairs
Camila Granados Cifuentes – Faculty of Arts, Sciences and Education
Charity Watson – College of Arts, Science and Education
Selcuk Uluagac – College of Engineering and Computer Science
Jeremiah Hower – College of Arts, Science and Education