The most convenient way to change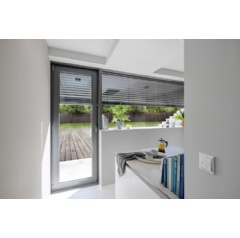 Bosch Smart Home introduces the new Light/Shutter Control II.
Multifunctional use: can be installed as a smart shading or lighting controller.
Comfortable Shading: Raises and lowers roller shutters and awnings to desired positions and moves blinds to desired height and tilt.
Smart Lighting: Allows independent control of up to two existing fixtures.
Flexible installation: can be mounted behind existing switches and push buttons, in junction boxes, as well as outdoors.
The alarm clock rings, the roller shutters in the bedroom rise automatically and the hallway light comes on when you enter the bathroom. Is there a better way to start your day? Bosch Smart Home turns this dream scenario into reality with the Smart Light/Shutter Control II. The new 2-in-1 product not only controls your electrically operated lighting or shading options, but can also be controlled via existing switches. The easily adaptable unit can be used either as a smart shade controller or as a lighting controller: both options are easily selectable during installation. As a roller shutter controller, it can bring electric roller shutters, Venetian blinds and awnings to the desired position. In addition, the Venetian blinds can be adjusted to the desired height and inclination. As a lighting controller, up to two conventional luminaires can be controlled independently of each other, even without smart bulbs. The Light/Shutter Control II can be used flexibly: as usual via an existing switch; via timer, automations and scenarios; comfortably by voice via Siri, Amazon Alexa and Google Assistant; and via app – at home or remotely.
The smart way to control shading
Bosch Smart Home makes it easy to intelligently upgrade existing motorized shading devices such as roller shutters, venetian blinds or awnings. For example, using individual automations based on the "if/then" principle, automatic blinds can gently wake the occupants of a home at sunrise or at any other pre-set time in the morning. The automated system can also be set to lower the blinds at dusk and simultaneously turn on the lights inside the house to shield residents from unwanted gazes from neighbours. The new functions of the smart shade controller also offer options to improve the indoor climate. For example, roller shutters can be lowered automatically when the temperature exceeds 25 degrees Celsius in summer. The smart shading controller thus guarantees pleasant temperatures inside the house, even without air conditioning.
Smart lighting solutions
Eating and drinking well are important for a casual dinner with friends, but good lighting is just as essential for a cozy atmosphere. The Bosch Smart Home Light Controller can be easily operated via voice control, allowing you to sit with friends and enjoy a relaxing evening. The new lighting controller can even transform two lamps into smart lamps, for example those above the dining table.
Healthy and safe with Bosch Smart Home
The intelligent Light/Shutter Control II not only provides greater convenience for your Smart Home, it also improves security. The lamps integrated in the presence simulation can be switched on and off automatically via a random algorithm. To increase this, roller shutters can be raised and lowered automatically at sunrise and sunset, so that despite the absence of residents, the house appears occupied and uninvited guests are effectively deterred. In the event of a break-in, the lights turn on automatically.
Further actuators will soon be added to the Bosch Smart Home
In addition to the Light/Shutter Control II, the Bosch Smart Home Relay and the Bosch Smart Home Dimmer will be introduced next year. The relay is equipped with a potential-free contact that can switch almost any electrical device or even a socket. The dimmer completes Bosch's portfolio for smart control of dimmable fixtures or other lighting devices.
Light/Shutter Control II requirements:
A depth of at least 50 millimeters is required for installation in flush-mounted boxes. A box depth of 60 millimeters or more is recommended for optimal installation.
A permanent power supply with lead and neutral conductor is required to power the light/shutter controller itself.
230 volt AC devices may only be installed by authorized specialists.
Availability of Light/Shutter Control II:
Now available in Germany, Austria, Switzerland, France, UK, Spain, Italy, Netherlands, Luxembourg and Belgium. Other countries will follow during the year.
Price: €74.95 including tax.
Availability of relays and dimmers: during 2023.
This topical content was set up by WebWire's editorial staff. Linking is allowed.
Press release distribution and press release distribution services provided by WebWire.